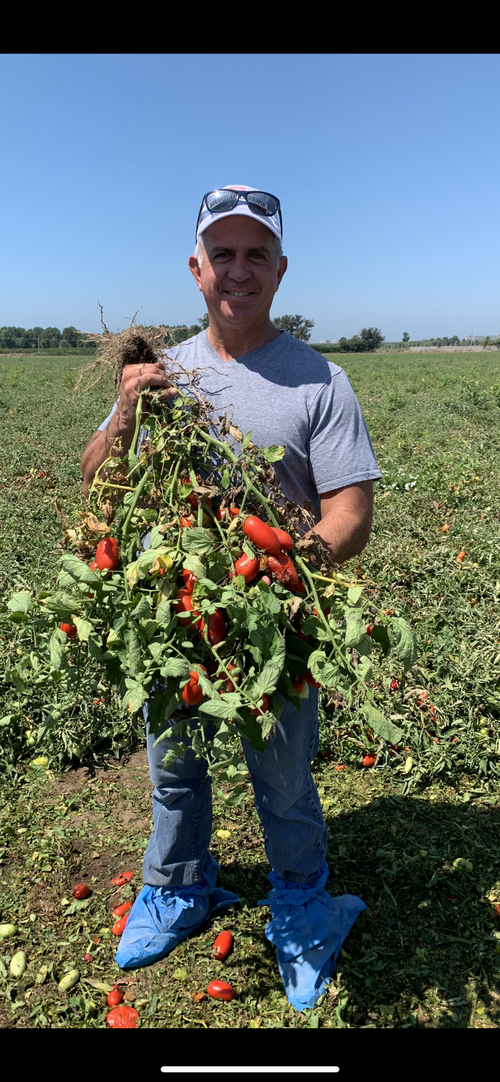 For over 60 years, the Russo Family has been providing world class hospitality and cuisine to millions of guests from all over the world. Mr. Frank Russo, Jr. is now bringing RUSSO'S ON THE BAY'S hand crafted artisan selections to you through select fine supermarkets and Costco.
To find a local store click here.
You may already know our sauce  Recipe Has Been Handed Down Through Generations And Is A Terrific Blending Of San Marzano Tomatoes, Basil, Salt, Pepper, Garlic And Butter. This summer our Executive Chef Spiros had the chance to visit the farms our tomatoes come from and get a little dirty. 
For more information on our new retail lines please check out our website here. 
When Spiros came back from Italy we had the chance to discuss in depth the difference terrain can make. 
It's All About the San Marzano Tomato The celebrated San Marzano tomato is preferred by gourmet chefs the world over. The much buzzed about tomato is recognized around the globe for its elongated shape, few seeds, low acid content, and a pulp with an excellent, sweet flavor. The variety has existed since the early 1900s, when it was created in the Agro Sarnese-Nocerino region of southern Italy as a cross between three tomato varieties.
Because of its popularity, the San Marzano tomato is very important to the region's local economy, and was given DOP status ("Protected Designation of Origin") by the European Union. Products bearing the DOP stamp and claiming to be Pomodoro S. Marzano Dell'Agro Sarnese-Nocerino DOP must be grown, processed, and packed in the area of San Marzano, and meet all Italian regulations.  (exert straight from Carmelina to read more click here)